When is becoming a minority in your own country a good thing?
When is a rapid increase in crime and in particular rape o.k.?
When is taking the first steps toward turning your country into a third world slum complete with no go zones, Sharia courts and grooming gangs just dandy?
WHEN IT FEELS GOOD AND WHEN LIBERAL RAGS LIKE "THE JOURNAL" COMMEND YOU FOR IT, SILLY GOOSE!
'They're just regular young people like us' – Teens scoop top prize for welcome given to Syrian refugees
A group of teenagers in Ballaghaderreen have won top prize at the Foróige Citizenship Awards for their efforts at welcoming Syrian refugees to their town.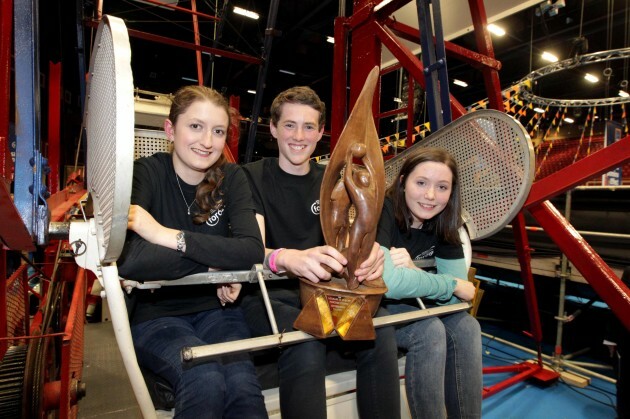 (l to r) Sophie Beveridge, Diarmaid Geever, and Jessica Fahy, with their citizenship awardSource: Mark Stedman
A GROUP OF Roscommon teenagers have won a prestigious youth citizenship prize for their efforts at helping Syrian youths to integrate into their hometown.
Ballaghaderreen Foróige Club took the top prize at the recent Aldi Foróige Youth Citizenship awards, which saw 2,300 young Irish people showcasing their efforts at fostering community spirit.
The group's effort saw them undertake a series of welcome measures for the arriving Syrian teenagers.
Such as hiding the National flag perhaps?
The Abbeyfield Hotel in Ballaghaderreen was in January designated as an Eroc (Emergency Reception and Orientation Centre) for refugees who have arrived in Ireland.
The local community in the small town has established a series of ventures with regard to helping the hotel's residents acclimatise [sic] to their new country, including football games and social nights.
LOL "social nights", don't worry they have that covered by themselves…
Local teenagers Diarmaid Geever, Sophie Beveridge, Hannah Geever, Gemma Hallworth and Jessica Fahy designed a welcome poster and folder for the arriving youths (seven of the initial 80 arrivals in March were teenagers aged between 13 and 16), with individual messages translated into Arabic.
Don't worry soon the State will be translating all official documents in Arabic if immigration continues apace and the E.U. has anything to do with it.
They also arranged a series of social evenings for the newcomers, where those gathered ate baked goods, taught each other how to pronounce each others' names, and played pool. Individual welcome packs were likewise given to each of the young Syrians, containing handmade friendship bracelets, woolly hats, and chocolate bars.
Let me tell you something Diarmaid it is not chocolate bars they want…
Diarmaid says that the language barrier is "no problem at all". "Body language and hand signals are just as good," he says.
Hey Diarmaid let me ask you a question. When the precedent that you are setting leads to a more hospitable climate for these people do you think that it will be better or worse for Irish people?
And if it is worse, say for women, would you be man enough to stand up, admit your mistake and do something about it or would you just ignore your part in it and call people racists for even mentioning it?
Don't rush take your time on this.